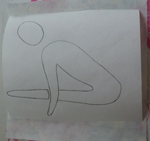 Freezer paper is a wonderful invention for using as a template or stencil with applique.
The matt side is used to trace or draw the shape, which can be cut out and the shiny side is ironed onto the right side of the fabric.
For machine stitching there is no seam allowance and it is better to iron on a fusible to the reverse of the fabric before cutting out the shape.
One of the benefits of freezer paper is that once the shape is cut out, it can be taken off the fabric and used again.
Lauren used freezer paper for her London Sports Shapes.