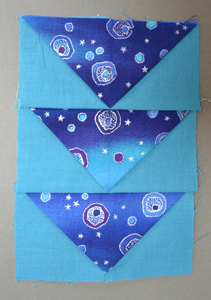 For a different effect try using Folded Flying Geese.
Cut out the two squares of the required size in Fabric A and one rectangle of the required size in Fabric B.
Fold the rectangle of Fabric B in half (wrong side to wrong side) and sandwich between the two squares.
Make sure the raw edges are all level at the top of square.
Stitch together then pull out the square and flatten to make inserted triangular 'goose'.
To make up a strip of folded Flying Geese, join two or more geese units together, do watch that you don't stitch the tip of the triangle into the seam.