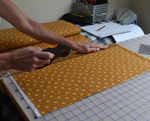 Rotary cutters are a must have tool for the patchworkers or quilter. Used with a self-healing mat and see-through acrylic rulers, cutting shapes such as squares, rectangles, triangles etc is much quicker and can be more accurate. Do always take care using a rotary cutter as the blade is very, very sharp and shield at all times when not in use. Always cut away from your body and store out of reach of children. This is a great way to cut out several layers of the same size and in different fabrics at the same time. Remember to identify your pieces as you cut.
When cutting strips:
You need to straighten the edge of the fabric and cut of the selvedge before cutting strips.
Fold in half with the selvedge edges together and place onto the cutting mat.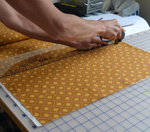 Lay the ruler on the fabric with the fold at the right angles and cut.
Measure out the width of the strip including the appropriate seam allowance(s) you need with cut edge of the fabric underneath the left hand side of the ruler (if right handed, to the right. If left hand, to the left.)
Hold firmly in place and cut.