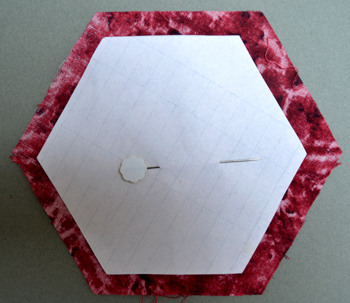 The traditional way of making quilts with paper pieced hexagons is to use a template.
Cut out the required number of hexagons from card or paper ( magazines are a good source to use.)
Cut out the fabric leaving sufficient to fold over the template.
Tack the fabric to the paper
Place the pieces right sides together and overstitch with small stitches to form a neat seam when flattened.
Once you have sewn together all the pieces, remove the tackling and papers.
You can also use freezer paper instead of papers.
Draw out the finished size of the hexagon or other shape on the matt side of the freezer paper and cut out.
Cut out your piece of fabric with your seam allowance and place the matt side of the freezer paper onto the wrong side of the fabric.
Turn over the seam allowance by finger pressing onto the shiny side of the freezer paper and cover with baking parchment before pressing with a warm iron (usually on the wool setting) for a few seconds until the fabric has been attached to the paper.
Repeat for the number of hexagons required and after sewing them together you can remove the freezer paper and reuse if required.